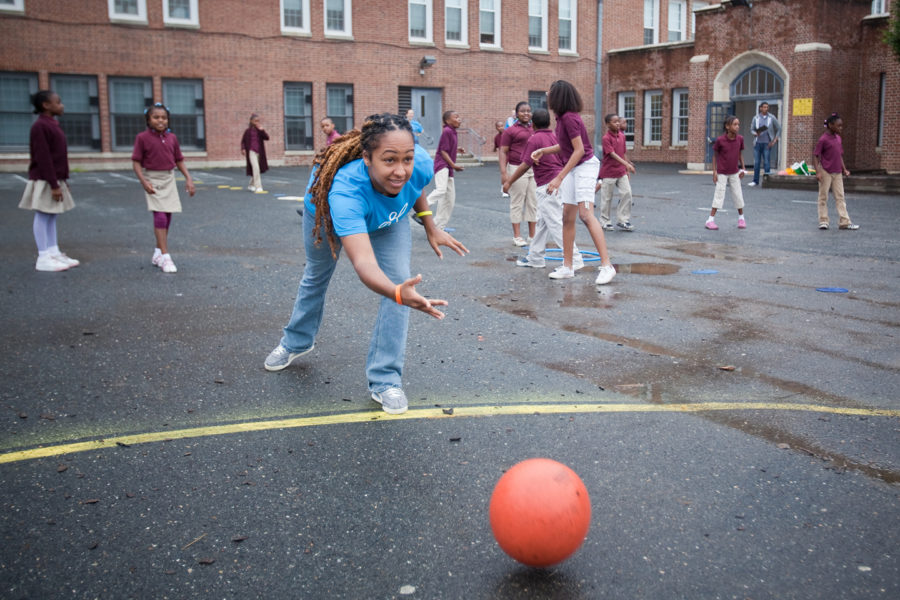 Recess often feels like a break for educators. After all, it provides a chance to step back and let kids do their thing.
But . . . good things happen when adults actively engage on the playground.
Adults foster a sense of trust and belonging by modeling positive behaviors. When adults play, we share our humanity with kids, make play more accessible, and help students feel safer. Additionally, studies have shown that schools with safe, stimulating, and nurturing support systems are 10 times more likely to have gains in reading and math scores.*
Interacting beyond the classroom improves relationships between students and adults.
Here are 6 ways adults can get off the sidelines and into the game:
Play games with kids!

Kids are eager to play with their teachers and recess staff. Model play even when the activity isn't your best game. When students see adults trying and failing, they get the message that it's okay to make mistakes.

Check in with kids not participating.

Ask what game a student wants to play or why a student is unwilling to try a game. We never want to force students to play, but

simple questions can help break down challenges

students are having on the playground.

Have a variety of games available.

It takes planning to create a space for every student—including those with different skills, interests, and abilities—on the playground. The same goes for adults—if you're not up for an athletic game,

cheering kids on or turning the rope count

as positive interactive play.

Maintain a healthy level of competition.

Competitive games are unsafe and intimidating. If a tag game is moving too quickly,

modify the game

! Instead of running, ask students to move in a silly way, like a "zombie" or "skip."

Introduce games where students can jump into a line to join.

Games feel unwelcome when students have to ask to get in or when the play doesn't pause for new kids to join.

Choose games that give everyone a chance

,  like

Three Lines Soccer

or

Foursquare

.

Just say "No" to captains.

Adults take the anxiety out of joining a game

by creating a fun "team picking" process, such grouping students by shoe colors or counting off "apples and oranges."
What you can try this week:
Ask your adult recess leaders to try out a new game.
Share these tips with your adult recess staff and ask for feedback or other best practices based on their experience.
Get aligned on roles and expectations for adults on the playground for every recess.
See how one Los Angeles principal changed recess by getting adults to participate on the playground.
Want to assess the health of your recess? Take the Recess Checkup—a three-minute, online quiz designed to help you identify strengths and uncover areas for improvement.
---
*The Missing Piece, CASEL (Bridgeland, Bruce, Hariharen, 2013, p.22), The Impact of a Multi-Component Physical Activity Programme (Massey et al, 2017, p.9).
Join the Game Checklist
Playground games encourage adult participation. Print out this guide for your Recess Team to make sure everyone feels welcome and included.
Download PDF